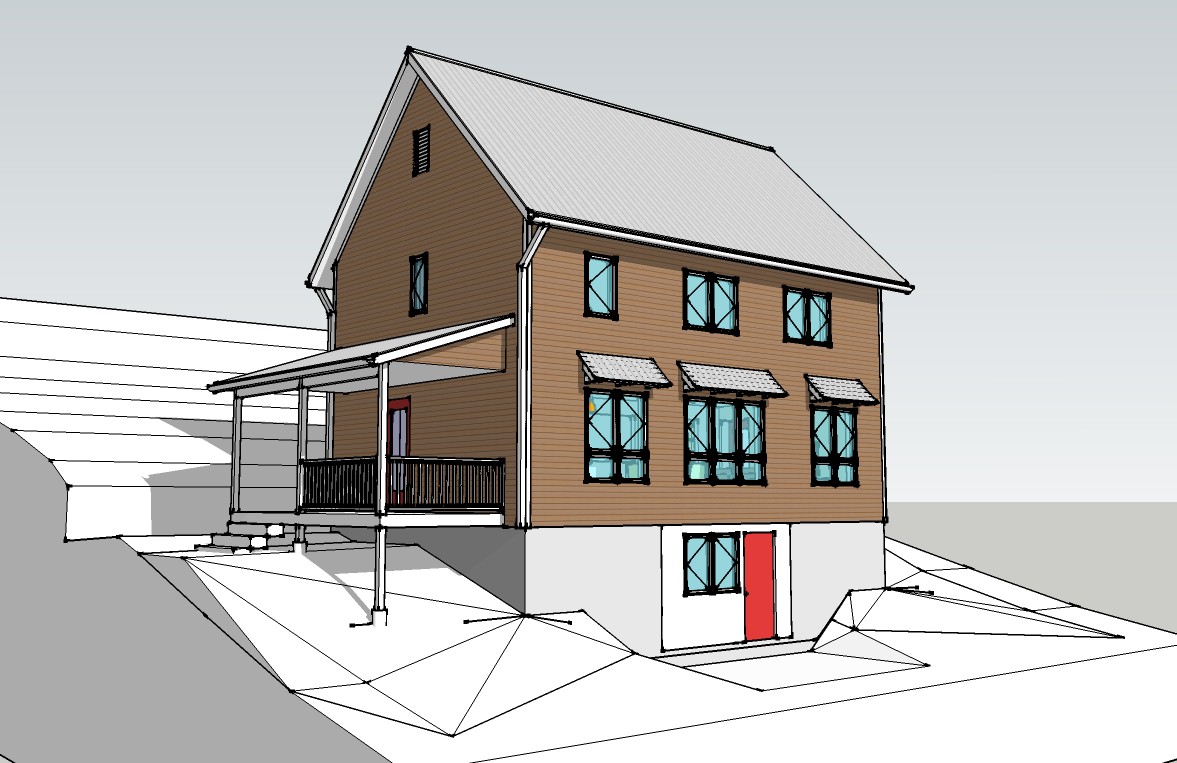 We're a couple of city folks who moved to the country with dreams of pursuing a more sustainable lifestyle. This site documents the building of our net positive house (we hope to generate a bit more power than we consume each year). We were net positive for 2012, our first year in the house, and each year since. See posts for 2013, 2014, 2015, 2016 and 2017.
In 2014 we won the NESEA Zero Net Energy Building Award.
General Specs and Team
Location: Cambridge, NY
Bedrooms: 2
Bathrooms: 1
Living Space : 1,200 sqf conditioned space / 2,112 sqf enclosed space, including insulated but unheated basement
Estimated Cost (USD/sq. ft.): $142/sqf (estimated* = projected budget / enclosed space) *Not including significant site work.
Actual Cost (USD/sq. ft.): $142/sqf (actual* = $300,000 / 2,112 sq. ft.) *Not including significant site work or mortgage related expenses.
View the construction documents (1.7 Mb PDF). Updated 6 March 2011.
Completion Date: May 2011 November 2011 December 2011
Designers: Larry and Jill Burks (homeowners)
Builder/Contractor: Warren R. Coolidge
Energy consultants: DEAP Energy Group (Mike Duclos, Paul Eldrenkamp, Paul Panish)
Construction
Foundation: walkout basement
Under-slab insulation: R-30 (3 layers of 2" XPS)
Foundation wall insulation: R-41 (2" EPS + 9" dense pack cellulose)
Walls: R-44 (12" of dense pack cellulose)
Roof: R-75 (24" of loose blown cellulose)
Windows: Accurate Dorwin triple-glazed fiberglass windows (Casements U-0.24/SHGC 0.47 south, U-0.20/SHGC 0.44 north, east & west) (Fixed U-0.22/SHGC 0.55 south)
Doors: ThermaTru fiberglass doors U-0.24
Air tightness: Shell test: 159 CFM (0.56 ACH) Final: 131 CFM (0.46 ACH or 0.03275 ELR) (see post, Shell blower door test results.)
Energy
Space heating: Mini-split Air source heat pump (Mitsubishi MSZ/MUZ-FE18NA), electric resistance backup
Domestic hot water: 50 gallon Marathon electric water heater
Air conditioning: Open the windows or Mini-split ASHP
Energy Star appliances and LED/CFL lighting.
Solar PV: 30 - 230-watt Solar photovoltaic modules, totaling 6900 watts of peak DC power. Fronius IG Plus 7.5-1 UNI Inverter. This system will provide approximately 682 kWh per month on average. (We produced 719 kWh on average per month for the first year.) See solar related posts.
HERS Index: 22 (see post, It's official, we earned our 5+ Energy Star rating. But the result was not what we expected.)
Energy Star Score: 5+
Est. Space Heat Demand: 12,416 kBTU/yr.
Est. Total Source Energy: 55,231 kBTU/yr.
Est. Total Site Energy:  20,456 kBTU/yr. (5,995 kWh/yr.), Actual for 2012: 5,601 kWh.
Est. Hot Water Energy: 8,326 kBTU/yr. (2,440 kWh/yr.), Actual for 2012: 1,528 kWh.
Indoor Air Quality
Mechanical ventilation: UltimateAir RecoupAerator ERV. Replaced by a Zehnder ComfoAir 350 HRV on Nov 18, 2015.
Green Materials and Resource Efficiency
Trees removed from site were milled for future barn framing, house stairs and trim. The remaining hardwoods were bartered as firewood.
Zero VOC paints (interior)
1000 gallon rain water storage tank
Low-flow plumbing fixtures
Energy efficient appliances
LED & CFL lighting
Locally harvested and milled Brown Maple interior floors